Is a Georgia DUI roadblock unconstitutional? 
Atlanta DUI Lawyer Bubba Head explains Georgia laws about DUI checkpoints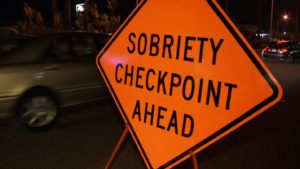 Cops at DUI checkpoints are looking for symptoms of drunk driving or for possible impairing drug use (prescription drugs or illegal drugs) that may result in DUI-drug charges. Your DUI checkpoint MAY NOT be constitutional, however. The Fourth Amendment of the U.S. Constitution prohibits warrantless traffic stops such as those at a DUI checkpoint unless an officer has seen a traffic or criminal violation or been informed of criminal acts of the driver whose car is being stopped.
DUI checkpoints or DUI roadblocks in Georgia are a method for police officers to come into contact with drivers at random checkpoints to screen suspected DUI drivers. This screening also may be for a valid driver's license and proof of insurance. DUI sobriety checkpoints for people driving under the influence of alcohol or DUI drugs are extremely common in Georgia. In the USA, 38 states plus the District of Columbia permit DUI checkpoint detentions, so long as the delay is minimal. Georgia is one of those thirty-eight states that permit DUI checkpoints – but only when all steps to authorize a DUI roadblock at a proper physical location, with the location being a "safe" one for blocking oncoming vehicles, as approved by an appropriate supervisory officer, and staffed by appropriately trained DUI officers, who only briefly stop each and every vehicle at the DUI checkpoint, and who check for limited issues and questions.
Are Sobriety Checks at a DUI Checkpoint Legal?
The 4th Amendment protections require that any law enforcement agency that seeks to utilize random safety checks or for other checkpoint purposes must FIRST create a fixed, written protocol that complied with the Fourth Amendment, and then have a supervisory officer approve the location, staffing, and procedures. Anything less, or roadblock stops that lack full programmatic oversight and a pre-approved "plan" of implementation, will be declared to be unconstitutional.
So, if you were arrested for DUI anywhere in Georgia, let one of our 20+ DUI defense attorneys help you fight the "suspicion-less" Georgia DUI roadblock unconstitutional situation.  Contact a TEAMDUI.com Georgia DUI attorney 24/7 at 1-844-TEAMDUI [1-844-832-6384].
New Attorney Search
Choose Your County In Georgia:

Or Choose A New State:
Contact Us
For a
FREE Case Evaluation
with a specialized DUI-DWI attorney, call or
submit your case details
.We are available 24 hours/7 days a week
1-844-TEAM-DUI (1-844-832-6384)
Copyright 2023. William C. Head. All Rights Reserved.