Can I Avoid a Georgia DUI Checkpoint? What happens if I turn around and go the other way?
Most sobriety checkpoint locations near me have been chosen by a supervisor to NOT allow any turnoff street or apartment entrance "escape routes" for oncoming drivers. This way it will be awkward, if not impossible, to make a "legal" turnaround, to not pass through the DUI checkpoint near me.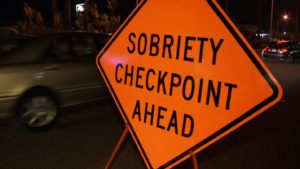 In simple terms, so long as you can make a proper, legal maneuver on the roadway, and not impact other traffic, you MAY turn around (or down an adjacent street) and avoid the DUI checkpoint. If pursued and pulled over, such pullovers may violate the Constitution. If no law has been broken, the warrantless seizure by the use of emergency lights is illegal. So, Georgia DUI roadblock turnarounds can be justified and defended in court.
The Supreme Court has found that temporary DUI checkpoint stops do not violate the Fourth Amendment rights of drivers at checkpoints (without reasonable suspicion). The Court said the importance of keeping impaired drivers off the road generally outweighs the inconvenience and intrusion to motorists.
The Georgia DUI checkpoint refusal laws are very clear that a LEGAL maneuver to avoid police checkpoints is legitimate and not the basis of a Fourth Amendment pullover.  A law enforcement officer cannot simply base a police pullover of a moving vehicle on a suspension that the driver's blood alcohol context is above the legal limit just because they did not say inline.
The first question is typical, "Why did you try to avoid the safety checkpoint?" Advise the officer that you saw what seemed to be an accident scene down the road, and did not want to be delayed. Then, give only your name and address, driver's license if asked, and no further statements about where you were going to or coming from. Especially DON'T talk about your consumption of alcohol or drugs.
Criminal defense attorneys in GA who specialize in DUI defense know the typical DUI checkpoint locations in their area of Georgia. Safety checkpoints cannot be established on Interstate highways, so expect to be pulled over on artery highways that may lead to an interstate or other major roadway, like Georgia 400 in Atlanta. Many DUI checkpoints are set up near recreational areas like lakes and Georgia state parks.
For example, after an Atlanta Falcons football game in Atlanta, the Georgia State Patrol Nighthawks, special DUI task force — which is usually located near the Buckhead Five Points area near Roswell Road, Piedmont Road, and Peachtree Road will relocate to main roads leaving the sports or entertainment venue. They will let most heavy traffic clear for a while after the game finishes before establishing several roadblocks in Fulton County, Dekalb County, Gwinnett County, and Cobb County, plus other counties along major highways (like Georgia 400 or Ga Highway 316). These DUI checkpoints yield hundreds of arrests after each game — day or night.
Atlanta (Fulton County) likely has the greatest number of DUI checkpoints established in GA each year, but sports events create aggressive enforcement of police officers in setting up these random checkpoints or roadblocks.
Atlanta-based criminal defense lawyer William "Bubba" Head started TEAMDUI.com to provide important information about these types of DUI checkpoint legal questions under Georgia law.
Mr. Head has been practicing in metro Atlanta for two and a half decades, with his main office currently at the Sandy Springs Office (Fulton County), and has multiple satellite office locations in Marietta and Smyrna in Cobb County, Duluth (Gwinnett County), Decatur (Dekalb County), downtown Atlanta (Fulton County), Alpharetta (Fulton County), on the east side of Atlanta in Conyers (Rockdale County), on the south side of Atlanta, in McDonough (Henry County), and further east, out GA HWY 316, in Athens (Clarke County). Outside of metro Atlanta, the other TEAMDUI.com regional affiliates in Valdosta, Douglas, Hinesville, Savannah, Augusta, Toccoa, Tifton, Macon, Thomasville, Blakely, Columbus, Newnan, McDonough, Carrollton, Dalton, Dahlonega, Statesboro, and Atlanta provide aggressive, local criminal defense and DUI defense legal services. All of these attorneys were hand-picked to be in TEAMDUI.com by Mr. Head.
We are here to HELP YOU, so don't hesitate and call TEAMDUI.com at 1-844-TEAMDUI [1-844-832-6384] and locate a superb GA DUI attorney.
Choose Your County In Georgia:
Or Choose A New State:
Contact Us
For a FREE Case Evaluation with a specialized DUI-DWI attorney, call or submit your case details.We are available 24 hours/7 days a week
1-844-TEAM-DUI (1-844-832-6384)
Copyright 2023. William C. Head. All Rights Reserved.